CINEMA CYCLE — WESTFRONT
DIRECTED BY GEORG WILHELM PABST, 1930
Four German infantrymen end up on the front line just months before the end of World War I. Westfront, a masterpiece adapted from Ernst Johannsen's novel, is presented from the German point of view. It shows the horrors and ravages of war and the ubiquity of death from all angles, with a resolutely pacifist tone. Three years after its release, the film was banned by Joseph Goebbels, the Nazi Minister of Propaganda.
Film echoing Wozzeck.
Institut de l'Image — Aix-en-Provence
DURATION: 1H30
INSTITUT DE L'IMAGE
RATE: €8 | LOYALTY CARD: €5
OTHER RATES: SEE INSTITUT-IMAGE.ORG
PURCHASE ON SITE
Related content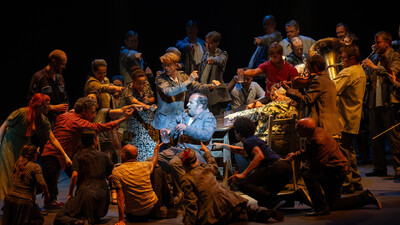 WOZZECK
OPERA IN THREE ACTS LIBRETTO BY THE COMPOSER BASED ON THE DRAMA WOYZECK (1836) BY GEORG BÜCHNER FIRST PERFORMED ON 14 DECEMBER 1925 AT THE STAATSOPER...